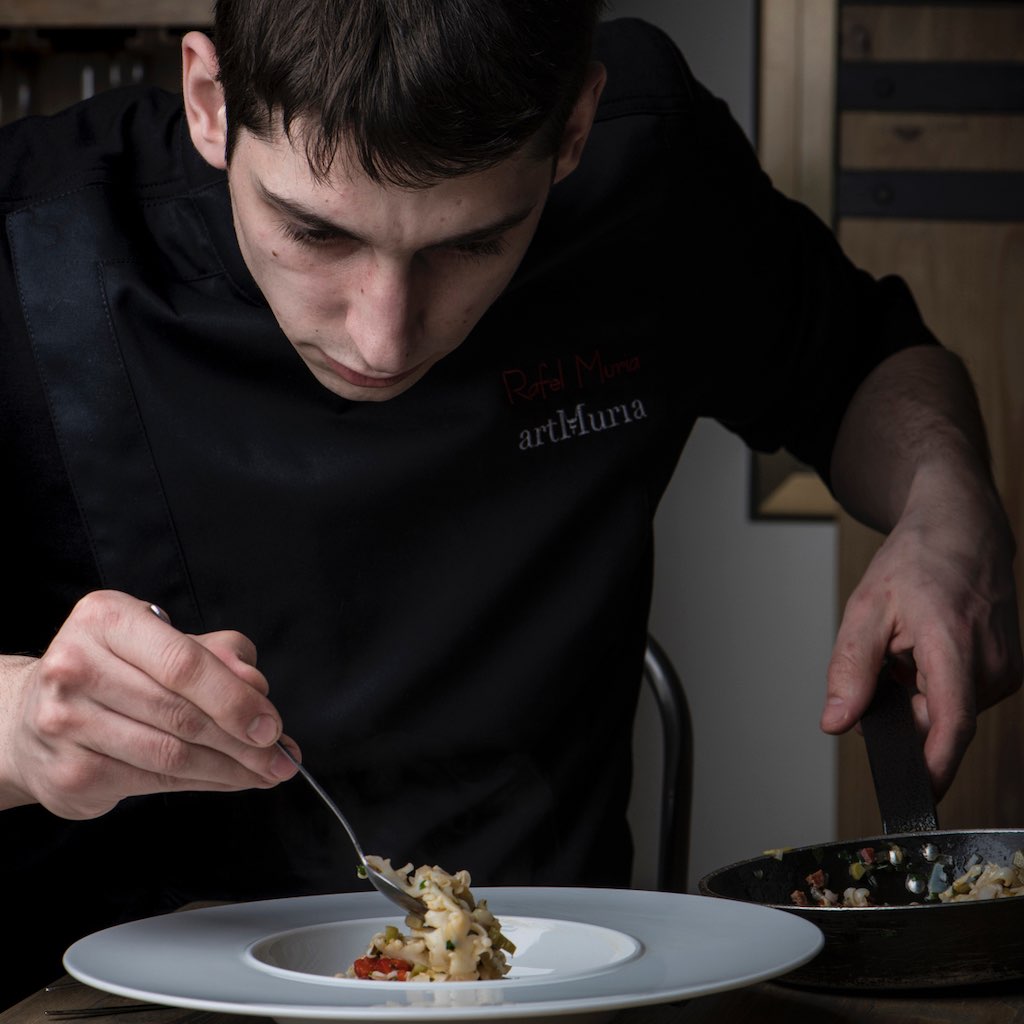 The Truffle in Today's Cuisine, by Rafael Muria
25 February, 2021 | 12:00 pm

|

1:00 pm

|

Free
The Truffle in Today's Cuisine. Food tour of Catalonia:
Thursday, February 25
Starting at 12:00
Rafael Muria, Restaurant Quatre Molins. Cornudella de Montsant (Tarragona)
Rafel Muria, the honey chef, at the head of the Quatre Molins project: Rafel Muria arrives in Cornudella at the age of 23, with the help of the Ronadelles winery to inaugurate a new stage of the Quatre Molins restaurant. From the first moment he has the intention of making a contemporary kitchen that draws the landscapes of our land. Quatre Molins tries to value native products and varieties to update the culinary tradition. Rafel was born in El Perelló, in a family with a long beekeeping tradition. Grown among flowers and swarms, honey defines its most intimate imaginary, achieving a completely personal and new language.
The chef from Quatre Molins graduated in 2012 from the Hofmann School in Barcelona. From then on, he began his professional career at Restaurant Villa Retiro de Xerta (one Michelin star). Later you will start an impressive tour of restaurants of high international prestige. Noteworthy is the Michel Bras Restaurant in Lagiole, France (three Michelin stars), or Villa Maiella in Pescara, Italy (one Michelin star). This trajectory will be culminated by becoming the second chef at the exclusive Parisian restaurant L'Atelier de Joel Robuchon Saint-Germain (two Michelin stars). There he will complete an apprenticeship that gives him a young, free and heterodox vision of Tarragona cuisine.
The work of Rafel Muria at the head of Quatre Molins has achieved the recognition of several leading figures in gastronomy and haute cuisine. Some of these recognitions have come from specialized critics, publications and important awards. To speak of Rafel Muria is to make him the winner of the demanding Red Tuna Balfegó National Gastronomy Contest (Chef Balfegó) in its 2018 edition. His Royal of Red Tuna sangacho took 100 points from Martín Berasategui, the maximum score. According to the chef with 10 Michelin stars, "never in his life had he given this score in any contest to any chef."
Rafel Muria is a simple, humble chef, apparently shameful and with the concern of what he wants to learn every day.
This humility has not prevented him from continuing to reap new successes: his meteoric career accelerates even more with the selection as a candidate for Revelation Chef Madrid Fusión 2019. This nomination made him jump definitively to the forefront, placing him as one of the chefs to consider within the national gastronomic scene. With this fascinating starting point, a lot of work, tenacity and courage, Rafael today handles five languages to face everything in this profession.
Safety, balance, and a great knowledge of the product and the techniques are, despite his youth, some of his strengths that stand out in chef Rafel Muria.
Comparte este evento